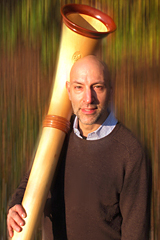 POSAUNE, ALPHORN
born in Providence, Rhode Island, USA
The great-grandson of an Alpen mountaineer, Rob began playing trombone at the age of 6, and was introduced to the alphorn by Traugott Forschner in 2000.
Perhaps the air around Zell am See is still in his lungs, or could it be that the Appalachian mountains of Pennsylvania and Virginia, where he grew up, have pulled him to the alphorn?
Studied Trombone with Prof. Dean Farnham, Ronald Baedke (Richmond Symphony Orchestra), Jürgen Heiner (Staatsoper Berlin), David Steinmeyer und Buster Cooper (Duke Ellington Band 1961-1973).
Rob's alphorn has found stages on Kika with the cartoon rat, Marvi Hämmer, with Alexander Hacke and Danielle De Picciotto on The Ship of Fools, with the Polkaholix, Ari Meyers' Redux Orchestra, with the groups Brasstastix,  Half & Half/Alp und Halb and many others…
Durch Kontakte zu Conrad Bauer begann er 1991 in Berlin aufzutreten.
Er war mehrere Jahre Mitglied in Arnold Dreyblatts "Orchestra of Excited Strings" und in der Berliner Gruppe Michele Baresi, arbeitete u. a. mit Norman Veenstras Ensemble "Tone" als Arrangeur und Studiomusiker. Mit Roger & the Evolution u Gentleman and The Far East Band hat er viele Jahre gearbeitet.
Film und Fernsehengagements uA mit Dieter Krebs, Soko 03, MTV Campus Invasion, TV Total, Bundesvisionen Songcontest, The Dome, Carmen Nebel, Melodien für Millionen mit Dieter-Thomas Heck.
Rob spielt im Berlin Pops Orchestra; Berliner Ensemble; Maxim Gorki Theater, Neuköllner Oper und trat unter anderem mit Musikern & Bands wie
Jason Kahn; Geschwister Pfister; Ellen Fullman; Beat n Blow; Jose Luis Quintan (Changito);
Andrej Hermlin's Swing Dance Orchestra; The Bosshoss with the Tijauna Wonder Brass; The Flintstones Big Band; Suzie; Adel Tawil; Yoyo Roehm; Tippa Irie; Silvia Ocougne; Einstürzende Neubauten; Stephan Said; Casandra Steen; Till Brönner; German Trombone Vibration; Chamaco Rivera; Ganjaman; Werner Durand; Culcha Candela; Jive Park; Staubgold; Blascore; Jörg Hiller; Cool Breeze; Hauschka; Christof Griese's JJBC; Barbara Schöneberger; Ricardo Moreno; Fettes Brot; Ulrike Artzet Quintet;  Calico Soul; Rumabara; Eased from Seeed; Cache; Shabab; Sonido Tres; Berlin Big Band; Paul Brody; Caribe Son; Mamadee & Tamika; Earth;  Coby Batty; Surifico; Jerry Jenkins; Miguelito; Jahcoustix; Industrial Soldier; Knut Jannsen; D-Flame; Lion's Club; ….auf.
Er unterrichtet Posaune und tiefes Blech privat, an der Musikschule Paul Hindemith Neukölln und am Arndt Gymnasium Dahlem.
Er leitet das Posaunenensemble Brasstastix.